News
World Register of Marine Introduced Species (WRIMS) officially launched
Added on 2015-03-17 08:46:21
by Vandepitte, Leen
WRIMS – a database of introduced and invasive alien marine species – has officially been released to the public. It includes more than 1,400 marine species worldwide, compiled through the collaboration with international initiatives and study of almost 2,500 publications.
WRIMS lists the known alien marine species worldwide, with an indication of the region in which they are considered to be alien. In addition, the database lists whether a species is reported to have ecological or economic impacts and thus considered invasive in that area. Each piece of information is linked to a source publication or a specialist database, allowing users to retrace the information or get access to the full source for more details.
Users can search for species within specific groups, and generate species lists per geographic region, thereby taking into account their origin (alien or origin unknown or uncertain) and invasiveness (invasive, of concern, uncertain …). For each region the year of introduction or first report has been documented where available. In the past, species have sometimes erroneously been labelled as 'alien in region X'. This information is also stored in WRIMS, clearly indicating that this was an error. Keeping track of these kinds of errors or misidentifications can greatly help researchers and policy makers in dealing with alien species.
WRIMS is a subset of the World Register of Marine Species (WoRMS): the taxonomy of the species is managed by the taxonomic editor community of WoRMS, whereas the alien-related information is managed by both the taxonomic editors and the thematic editors within WRIMS. Just like its umbrella-database WoRMS, WRIMS is dynamic: a team of editors is not only keeping track of new reports of alien species, they also scan existing literature and databases to complete the general distribution range of each alien species in WRIMS.
Given the large amount of information and variety in the use of terms and definitions, there was a need to compile a standard glossary – based on existing terminology – to be able to uniformly handle the information within WRIMS. The geographical information was recorded by locality, sea, ocean, and country's Exclusive Economic Zones using international standards (
www.marineregions.org
).
The IUCN SSC Invasive Species Specialist Group (ISSG) is an active partner in this initiative. Links have been provided to marine invasive species profiles featured in the Global Invasive Species Database (GISD) their flagship knowledge product. ISSG is committed to developing species profiles for all known marine invasive species. Meanwhile, an official collaboration has been established between VLIZ – the host institute of WoRMS and WRIMS – and Joint Research Centre (JRC) of the European Commission – the host institute of European Alien Species Information Network (EASIN).This network aims to facilitate the exploration of existing alien species information in Europe to assist the implementation of European policies on biological invasions. This collaboration will facilitate the use of WRIMS within the context of the recently established Marine Strategy Framework Directive. Both parties have agreed to share and integrate data that are needed to address scientific, invasions management and policy questions. In addition, EASIN will remain a data provider to WRIMS.
Any information on alien species and their distribution that you come across and is not yet included in WRIMS can be sent to
info@marinespecies.org
for upload into the portal.
WRIMS directly contributes to the Biology Project of the European Marine Observation and Data Network (EMODnet), to complete trait information related to "invasiveness" of species. In addition, it is a valuable contribution to the Taxonomic Backbone of LifeWatch, which aims at bringing together both taxonomic and species-related (ecological) trait data.
Acknowledgements
The compilation of this database is supported by EMODnet Biology and LifeWatch. LifeWatch is the E-Science European Infrastructure for Biodiversity and Ecosystem Research. LifeWatch is a distributed virtual laboratory which will be used for different aspects of biodiversity research. The taxonomic backbone of LifeWatch aims at bringing together taxonomic and species-related data and at filling the gaps in our knowledge. The European Marine Observation and Data Network (EMODnet) is a long term marine data initiative funded by the European Commission Directorate-General for Maritime Affairs and Fisheries (DG MARE) underpinning its Marine Knowledge 2020 strategy.
Update 2015-03-23
:
WRIMS has been included in the
Science
in Brief
Newsletter of 20 March 2015.
http://www.sciencemag.org/cgi/content/full/347/6228/1294?ijkey=zbW8yq7LRnf/I&keytype=ref&siteid=sci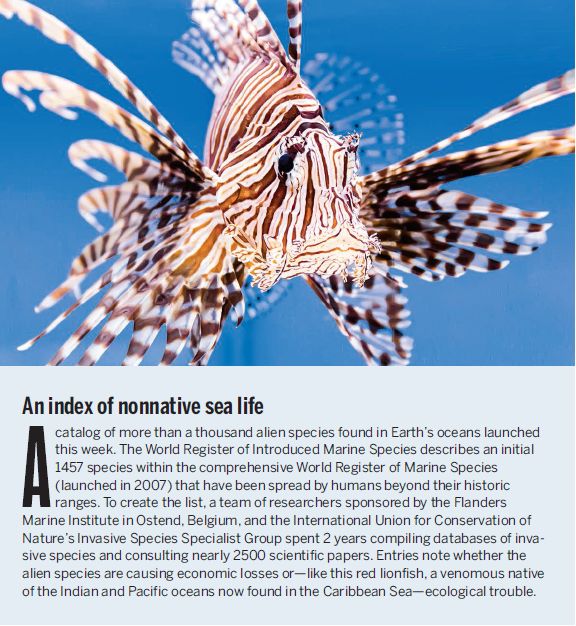 DOI: 10.1126/science.347.6228.1294
[
Overview
] [
Login
]