World Modern Foraminifera Database
Current number of valid modern species recorded: 6758
The World Modern Foraminifera Database
This World Database of all Recent species of Foraminifera ever described, is part of the World Register of Marine Species (WoRMS), a global initiative to provide a register of all marine organisms.
What are Foraminifera?
Foraminifera ('hole bearers') or forams for short, are a large phylum of amoeboid protozoans (single celled) with reticulating pseudopods, fine strands of cytoplasm that branch and merge to form a dynamic net. They usually produce a test (or shell) which can have one or more chambers, and are made of calcium carbonate (CaCO3) or mineral grains or other particles glued together. The tests are usually less than 0.5 mm in size, but the largest can be up to 20 cm across. Foraminifera are among the most abundant and scientifically important groups of marine organisms. The tests of recently dead planktic foraminifera are so abundant that they form a thick blanket over one third of the surface of the Earth (as Globigerina ooze on the ocean floor). Foraminifera are essentially marine- and estuarine-dwelling protozoans living in all environments from the greatest depths right up to highest astronomical tide level and from the equator to the poles.
The importance of foraminifera comes from the use of their fossil tests in biostratigraphy, paleoenvironmental studies, and isotope geochemistry. Their ubiquity in most marine sedimentary rocks, often as large, well-preserved, diverse assemblages, has resulted in their being the most studied group of fossils worldwide. Because modern foraminifera have attracted little interest from biologists, paleontologists have been forced to undertake most studies, including genetic research, on the living fauna.
This site has the following aims:
to provide a catalogue of the world's foraminiferal species
to promote stability in foraminiferal nomenclature
to act as a tool for higher taxonomic revisions and regional monographs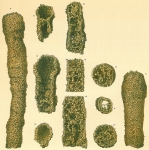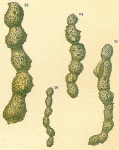 Higher classification
The list of currently accepted names is at least 90% complete, but the taxonomy of many species still needs revision. Newly described species will be added as soon as possible after publication, a task that will be undertaken continuously by the editors. There is currently no broad consensus available for the higher classification of the Foraminifera. Here, the classification given in Loeblich and Tappan (1987 and 1992) is mostly used, but is recognised as being in a state of revision. The results of ongoing molecular phylogenetic investigations will certainly help to stabilise the taxonomic system in the future.
Loeblich, A. R., and Tappan, H. (1987). "Foraminiferal genera and their classification." Van Nostrand Reinhold, New York.
Loeblich, A. R., and Tappan, H. (1992). Present status of foraminiferal classification. In "Studies in Benthic foraminifera. Proceedings of the Fourth Symposium on benthic foraminifera, Sendai, 1990." (Y. Takayanagi, and T. Saito, Eds.), pp. 93-102. Tokai University Press, Tokyo.
Working group
A working group has been formed to provide international oversight and foster the compilation and rationalisation of the World Modern Foraminifera Database. The working group members are:
Editors
Enter data and make taxonomic decisions in the Orders they have responsibility for:
Bruce W. Hayward – Buliminida, Carterinida, Globigerinida, Lagenida, Miliolida, Robertinida, Rotaliida, Spirilinida, Xenophyophorea
b.hayward@geomarine.org.nz


Tomas Cedhagen – Allogromiida, Astrorhizida
cedhagen@biology.au.dk


Mike Kaminski – Lituolida, Loftusiida, Textulariida, Trochamminida
kaminski@kfupm.edu.sa
Editors are responsible for entries, decision on validity of names. Corrections and omissions should be addressed to the relevant editor or the general editor.
Currently (2013), there are 6758 "valid" species in the database (among 10,300 taxon names). Acceptance is an editorial decision, but we acknowledge such decisions need to be re-examined frequently in the light of new information. If you disagree with senior synonymy decisions or genus assignments, please let us have your - argumented - corrected assignment.
History of the Foraminiferal list
The World Modern Foraminifera Database began as the European species list compiled by Tomas Cedhagen and Onno Gross. Added to this were the Gulf of Mexico species list compiled by Barun Sen Gupta and colleagues and the New Zealand species list compiled by Bruce Hayward and colleagues.
Gross, O. (2001). Foraminifera, in: Costello, M.J. et al. (Ed.) (2001). European register of marine species: a check-list of the marine species in Europe and a bibliography of guides to their identification. Collection Patrimoines Naturels, 50: 60-75.
Hayward, B.W., Tendal, O.S., Carter, R., Grenfell, H.R., Morgans, H.E.G., Scott, G.H., Strong, C.P., Hayward, J.J. (in press) Phylum Foraminifera. Foraminifera and Xenophyophores. In: Gordon, D.P. (ed). New Zealand Inventory of biodiversity: A Species 2000 Symposium Review. Canterbury University Press,. Christchurch. Pp.
Sen Gupta, B.K., Smith, L.E., Machain-Castillo, M.L. (2009). Foraminifera of the Gulf of Mexico, Pp. 87–129 in Felder, D.L. and D.K. Camp (eds.), Gulf of Mexico–Origins, Waters, and Biota. Biodiversity. Texas A&M Press, College Station, Texas.
Since then records have been added from the following major foraminiferal atlases:
Cimerman, F., Langer, M.R. (1991). "Mediterranean Foraminifera." Sovenska Akademia, Ljubljana.
Hayward, B.W. (1990). "Taxonomy, paleogeography and evolutionary history of the Bolivinellidae (Foraminiferida)." New Zealand Geological Survey Paleontological Bulletin 63, 132 p.
Hayward, B.W., Hollis, C.J., Grenfell, H.R. (1997). "Recent Elphidiidae (Foraminiferida) of the South-west Pacific and fossil Elphidiidae of New Zealand." New Zealand Geological Survey Paleontological Bulletin 72, 166 p.
Hottinger, L., Halicz, E., Reiss, Z. (1993). "Recent Foraminiferida from the Gulf of Aqaba, Red Sea." Slovenske Akademija, Ljubljana.
Jones, R.W. (1994). "The Challenger Foraminifera." Oxford University Press.
Loeblich, A.R., Tappan, H. (1994). Foraminifera of the Sahul Shelf and Timor Sea, Cushman Foundation for Foraminiferal Research Special Publication 31, 661 p.
Parker, J.H. (2009). Taxonomy of Foraminifera from Ningaloo Reef, Western Australia. Association of Australian Palaeontologists Memoir 36, 810 p.
Venec-Peyre, M.T. (2005). "Les Planches inedites de Foraminiferes d'Alcide d'Orbigny". À l'aube de la micropaléontologie. 302 p. Muséum national d'Histoire naturelle, Paris.
Yassini, I., Jones, B.G. (1995). "Recent Foraminifera and Ostracoda from estuarine and shelf environments on the southeastern coast of Australia." University of Wollongong Press, Wollongong, NSW.
Also added are all the records of species described from modern sediment, compiled from Ellis and Messina Catalogue of Foraminifera and by Johannes Pignatti.
Literature Library
The literature library currently contains ~1000 references, mainly pre 1940 taxonomic works compiled by Johannes Pignatti.
Photogallery
The Photogallery currently contains ~4500 images linked to species records, mostly entered by Tomas Cedhagen from Brady's Challenger volume:
Brady, H.B. (1884). Report on the Foraminifera dredged by HMS Challenger, during the years 1873-1876. Reports of the Scientific Results of the Voyage of HMS Challenger Zoology 9, 814 p.
Links to other Foriminiferal sites
To assist the beginner or the non-specialist we provide here a selection of links to foraminiferal websites for further information.
Citation
By downloading or consulting data from this website, the visitor acknowledges that he/she agrees to the following:
If data are extracted from this website for secondary analysis resulting in a publication, the website should be cited as follows:
If any data constitutes a substantial proportion of the records used in secondary analyses (i.e. more than 25% of the data are derived from this source, or the data are essential to arrive at the conclusion of the analysis), the authors/managers of the database should be contacted. It may be useful to contact us directly in case there are additional data that may strengthen the analysis or there are features of the data that are important to consider but may not have been apparent from the metadata.
About
The World List is a searchable catalogue of species and higher taxa names.
Navigating this catalogue starts with clicking on one of six choices which you find in the top left corner of each page:
Introduction: will lead you this introductory section
Search taxa: will lead to a query page through which all taxon pages can be accessed
Checklist: will lead to a query page in which a geounit can directly be picked if the exact name of the unit is already known. This way a list of taxa for a given area can be found quickly.
Stats: statistics on the database.
Literature: will lead to a query page for references of Foraminifera literature.
Images: photogallery of Foraminifera.
Login: only available to editors.
For each foraminiferal species or infraspecific taxon, accepted or not, there may be the following entries:
genus name
the subgenus name, if applicable,
N.B. subgenus names do not need to be cited at all times according to the ICZN; acceptance of combinations without subgenus names is considered 'alternative representation' in the database.
the species name
the infraspecific name, if applicable
the author and year of the species name, without or with brackets depending on whether it is the original combination or not
The AphiaID (a unique numerical database identifier)
The higher classification (according to Loeblich and Tappan, 1990, 1992)
The status as 'accepted' or 'unaccepted' (if applicable; junior synonymy is usually based on published revision)
Record status (indicates who checked the record)
Rank of taxon, e.g. species
Parent: immediately higher taxon, e.g. genus, to which the present taxon belongs
Synonymized taxa: the list of junior synonyms linked to the present name
Sources: literature reference of the original description and if applicable to a recent revision (as the 'basis of the record').
Child taxa: all immediate subordinate taxa, e.g. subspecies
Environment: marine or brackish
Fossil range: recent only or also known as fossil (soon epoch ranges will be available)
Distribution: indication of the modern geographic distribution of the taxon, at least based on the origin of the holotype,
Different geounits may be indicated, preferably the Marine Ecoregion (see Spalding et al. 2007), but frequently also the country's Exclusive Economic Zone. The distribution areas of the junior synonyms are automatically shown with each 'accepted species'
Specimen: type specimen information, or published specimen information
Links: to other foraminiferal resources, to images and other information on specific servers. Current general links are: Genbank, etc.
Notes: any further relevant information, including descriptions, comments, explanations, etc.
Images: photos or other images uploaded to the site
We prefer 'objective' images of the taxa, such as photos or illustrations of type specimens. We do not encourage photos of unidentified foraminifera, but reliably identified copyright free images are welcome.
LSID notation: (similar to ISBN in publications)
Edit history: date of entry and changes made, name of editor
Links to a Taxonomic tree, Google, Google Scholar and Google images.
The records on higher taxa generally have the same structure as those of the species records. Not all of the above items already exist for all taxa entered in the database, but they will be asdded as time permits.
What you can do with this database at this moment in time (2011) is find out what the currently accepted combination is of your subject foraminifer, what its currently accepted higher taxon affiliation is, and from where it was originally described. You can also check which accepted species occur in a higher taxon. What you cannot (yet) do is find every published combination of genus and species name, as we gave priority so far to the original and the currently accepted combinations (so non-original non-accepted combinations are frequently still lacking). What you also cannot do reliably is trace the distributions of species and higher taxa or extract regional lists of species, because there is as yet no consistency in the data entered from around the world.