News
A 10 year overview of IRMNG, the Interim Register of Marine and Nonmarine Genera
Added on 2017-06-13 13:56:54
by Dekeyzer, Stefanie
Earlier this week, an Open Access paper was published, featuring an overview of the 10 year history of the Interim Register of Marine and Nonmarine Genera, and explaining its way forward.
IRMNG – a global taxonomic database focussing on genera – was initiated in 2006. Ten years later, its founder Tony Rees decided it was time to publish an overview of the first 10 years of this database, explaining the way it was compiled, the issues he had to tackle and how the database will move forward.
The paper – titled "IRMNG 2006-2016: 10 years of a global taxonomic database" – provides statistics and graphs on the growth its content, and recognizes the fact that it could not exist without the support of many other helping hands.
The database was originally started and managed at CSIRO in Australia by Tony Rees (2006-2014), where it was managed side-by-side with the Australian node of the Ocean Biogeographic Information System (OBIS Australia). Later on, in the period 2014-2016, the responsibility of the system was passed to the Data Centre Division of the Flanders Marine Institute (VLIZ) in Belgium, where IRMNG will be further maintained.
IRMNG is currently estimated to hold more than 95% of all published genus names across all realms, covering both the Recent and fossil representatives. Undoubtedly, IRMNG is uniquely placed to provide an overview of all life to genus level, permitting the discovery of trends in the description of genera through time and to provide basic information of the environment in which these genera occur (marine versus non-marine) and their extant versus fossil status. Due to its completeness, IRMNG is also capable of listing non-unique or homonym names across all life, which is a major benefit for scientists.
The continuation of IRMNG at the Flanders Marine Institute is supported by LifeWatch, which is part of the European Strategy Forum on Research Infrastructure (ESFRI) and can be seen as a virtual laboratory for biodiversity and ecosystem research. IRMNG is an integral part of the LifeWatch Taxonomic Backbone, developed by VLIZ as a contribution to the central part of the European LifeWatch project.
A link to the article is available through the homepage of the
IRMNG website
, and via the DOI
https://doi.org/10.17161/bi.v12i0.6522
.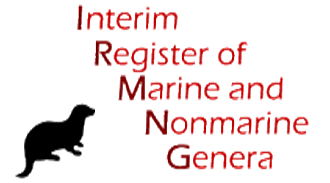 Link: http://www.irmng.org
[
Overview
] [
Login
]