News
WoRMS and Aphia: a major update for AlgaeBase species
Added on 2019-12-19 09:49:42
by Dekeyzer, Stefanie
The ongoing WoRMS – AlgaeBase synchronization collaboration results in a major update of algae in WoRMS
AlgaeBase
is a global database of taxonomic, nomenclatural and distributional information on algae including terrestrial, marine and freshwater organisms (seaweeds, phytoplankton, freshwater algae, etc.). At present, the data for marine algae, particularly seaweeds, are the most complete; but completion of the other organisms is improving. For convenience, AlgaeBase has included the sea-grasses, even though they are flowering plants. AlgaeBase was founded by Professor Michael Guiry in Ireland and is hosted at the Ryan Institute, National University of Ireland, Galway.
In 2013, AlgaeBase and the Flanders Marine Institute (
VLIZ
) signed an end-user license agreement regarding the Electronic Intellectual Property (EIP) of AlgaeBase. This agreement makes it possible for the World Register of Marine Species (
WoRMS
) to include taxonomic names of algae in WoRMS, thereby allowing WoRMS – as part of the Aphia database – to make its overview of all described marine species more complete.
Synchronization of the AlgaeBase data with Aphia and WoRMS was formerly undertaken manually, with the last update in March 2015. As this manual synchronization was very time-consuming for the WoRMS Data Management Team, it was decided to develop an on-line application (API) to semi-automate the synchronization. This application was first launched in 2015 in conjunction with Michael Guiry and the chief programmer of AlgaeBase, Pier Kuipers. Following an extended development and testing phase, the AlgaeBase harvester tool was optimized and implemented by the WoRMS Data Management Team in early 2019.
The AlgaeBase harvester permits a rapid assessment of the newly added species in AlgaeBase in a given period and add them to Aphia and – if they are marine in origin – to WoRMS. In addition, it also makes it possible to track the records that have undergone changes in AlgaeBase; it also allows the WoRMS Data Management Team to update already existing records, so they can be in complete synchronization with each other.
An initial bulk synchronization of AlgaeBase and Aphia/WoRMS was finalized in November 2019. The AlgaeBase records were synchronized for all algae from 2004 up to the present. This resulted in ± 8.200 new entries (of which 24% are marine) in WoRMS/Aphia, and about 22.300 entries were updated. From the 157.000 or so species and infraspecies in AlgaeBase, some 105.000 are now included in WoRMS/Aphia. In total, 5.246 Rhodophyta species, 1.233 Phaeophyceae species and 5.459 Chlorophyta species were added to or updated in WoRMS/Aphia.
This synchronization between AlgaeBase and Aphia/WoRMS using the online AlgaeBase harvester will be a regularly recurring task for the WoRMS Data Management Team.
The synchronization between AlgaeBase and Aphia was possible through support of the
LifeWatch Species Information Backbone
. LifeWatch, the E-Science European Infrastructure for Biodiversity and Ecosystem Research, is a distributed virtual laboratory, which is used for different aspects of biodiversity research. The Species Information Backbone of LifeWatch aims at bringing together taxonomic and species-related data and at filling the gaps in our knowledge. In addition, it gives support to taxonomic experts by providing them logistic and financial support for meetings and workshops related to expanding the content and enhancing the quality of taxonomic databases.


Image
:
Mastocarpus stellatus
(Stackhouse) Guiry, 1984; Author
Arenas Parra, Francisco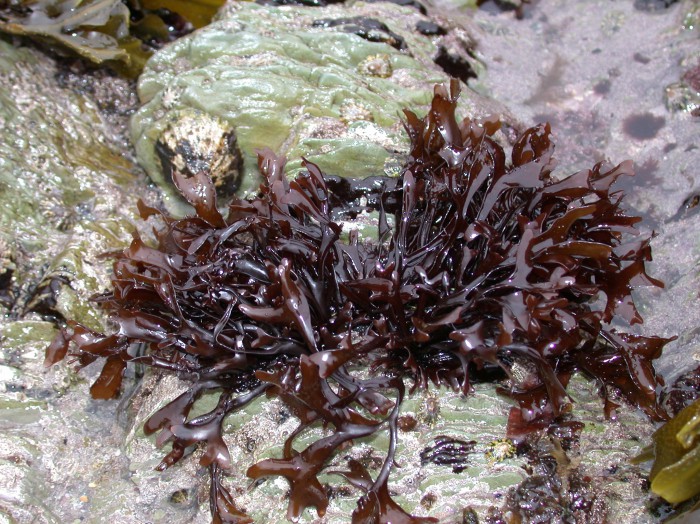 [
Overview
] [
Login
]