News
WoRMS and Aphia: a major update for Bryozoan species in collaboration with Bryozoa.net
Added on 2020-05-05 17:31:20
by Vandepitte, Leen
A dedicated synchronization collaboration between Aphia-WoRMS and Bryozoa.net results in a major update of Bryozoans in WoRMS. No less than 15,835 (sub)species have been added, together with a tremendous amount of valuable related information such as original descriptions and fossil ranges.
The Annual Lists of References and Taxa of Bryozoa  (
www.bryozoa.net
) is a major collection of resources that is fairly  complete and has largely been verified against the Zoological Record. This register  is meticulously managed by Phil Bock, honorary Associate at Museums Victoria in Australia.
There is a long standing collaboration between Phil Bock and WoRMS, as Phil has been an active editor on WoRMS since 2009 and has always advised the Data Management Team and the Steering Committee on Bryozoans.
New Bryozoan species have always been added to WoRMS on an ad-hoc basis, focusing on the marine species, mostly species-by-species upon request and by keeping up with newly published names. Until a few years ago, the focus was mainly on recent, marine species. As the scope of the Aphia database – the platform underlying WoRMS – has broadened and users started enquiring about the fossil and non-marine  Bryozoans, the Data Management Team – in collaboration with Phil – undertook a synchronization action, to make sure that all species present in Bryzoa.net were also represented in Aphia/WoRMS.
This synchronization action – which started last Summer - has just been completed, and has led to a major update of available Bryozoa information in Aphia. In total, 15,835 (sub)species were added to the database, of which the majority are fossil. For all these fossil species, ± 19,000 fossil ranges were added. The information of almost 1,300 genera was updated, by adding their type species. In total, 24,242 distributions were added, covering both recent & fossil species. Almost 10,000 additional references have been made available  through the database, and for 1,456 species, their original description could be  documented as a result of this synchronization action.
The synchronization between Bryozoa.net  and Aphia was possible through support of the LifeWatch Species Information Backbone, which is funded through the Research Foundation - Flanders (FWO). LifeWatch, the E-Science European Infrastructure for Biodiversity and Ecosystem Research, is a distributed virtual laboratory, which is used for different aspects of biodiversity research. The Species Information Backbone of LifeWatch aims at bringing together taxonomic and species-related data and at filling the gaps in our knowledge. In addition, it gives support to taxonomic experts by providing them logistic and financial support for meetings and workshops related to expanding the content and enhancing the quality of taxonomic databases.
Image: Holotype of
Barrosia balearica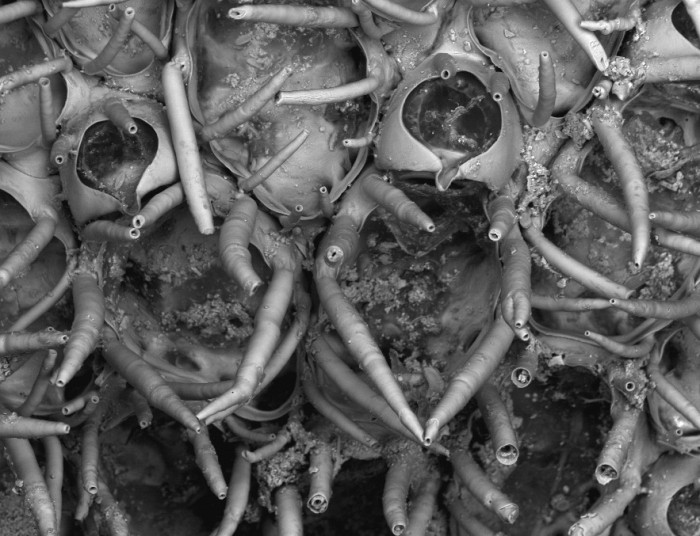 [
Overview
] [
Login
]