News
Awardees for the 2020 WoRMS Achievement & Early Career Researchers Award known
Added on 2020-05-20 10:18:45
by Vandepitte, Leen
This year, the WoRMS Achievement Award goes to Serge Gofas, and the WoRMS Early Career Researchers Award was granted to Thomas A. Neubauer.
Serge Gofas received the fourth WoRMS Achievement Award. Serge is a professor at the University of Malaga (Spain) and a principal WoRMS editor for Mollusca. Serge's involvement with molluscan taxonomic authority lists goes back to the 1990s, with the establishment of CLEMAM (Check List of European Marine Molluscs). CLEMAM later became part of the European Register of Marine Species (ERMS), which in its turn became the basis of the Molluscan part of the World Register of Marine Species (WoRMS).
Serge has thus  been involved in ERMS/WoRMS since the very beginning, and he has made major contributions to WoRMS, both as an editor and as a member of the Steering Committee. Within the SC, he is leading the Distribution Working Group and thanks to his input and insights, the visualization of the distribution information in WoRMS has been approved over the last years.
Just last year,  he got his lifework published, his book on
marine bivalves of tropical West Africa
and he is in the process of making all this information available in WoRMS/MolluscaBase.
Serge is responsible for adding a tremendous amount of content, although he will always be very modest about what he does. Perhaps more impressive  than 14,000 new taxon entries created by him since 2005, there are no less than 1,400 notes created by him to explain to the users issues of nomenclature, misapplications, invasiveness, etc.
The third WoRMS Early Career Researchers Award goes to Thomas A. Neubauer. Thomas received his PhD from the University of Vienna in 2013. From the beginnings of his career, his research focused on fossil non-marine gastropods. Within less than ten years, he turned into a leading expert in his field. Thomas was involved in the project "Freshwater systems in the Neogene & Quaternary of Europe: Gastropod biodiversity, provinciality & faunal gradients ( FreshGEN)". The database resulting from this project was made available through Aphia, with its own portal (
http://www.marinespecies.org/freshgen/
). Thomas is a MolluscaBase editor since 2014, focusing on the fossil, non-marine gastropods and bringing this part near completion.  
The WoRMS Early Career Researchers Award and the WoRMS Achievement Award are supported by LifeWatch, the E-Science European Infrastructure for Biodiversity and Ecosystem Research. LifeWatch is a distributed virtual laboratory, which is being used for different aspects of biodiversity research. VLIZ is also responsible for building the LifeWatch Species Information Backbone, to which WoRMS and its sub-registers are a valuable contribution.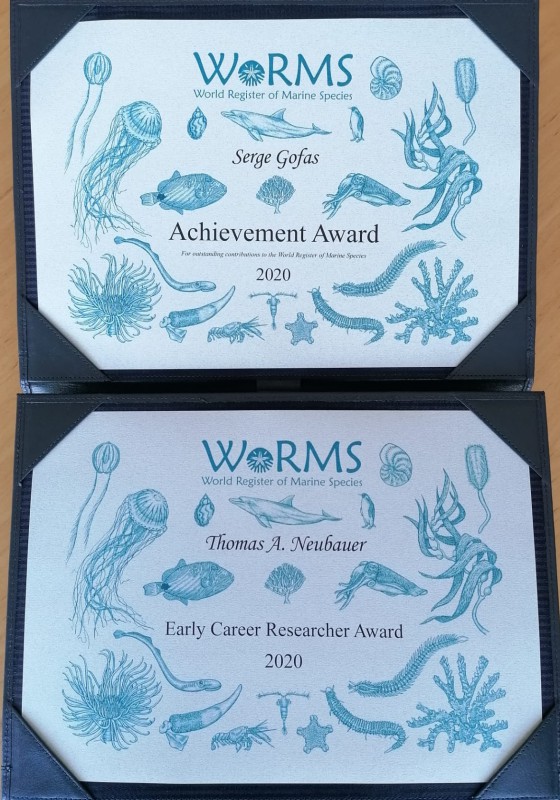 [
Overview
] [
Login
]