News
Finetuning MolluscaBase
Added on 2020-07-08 09:53:14
by Dekeyzer, Stefanie
In the week of 3-7 February 2020, the Flanders Marine Institute (VLIZ) – host of Aphia, the online platform behind WoRMS and its many subregisters – welcomed 14 Mollusca experts for 5 days, to further expand the content of MolluscaBase.
Since the start of
MolluscaBase
in 2014, its progress has been phenomenal, and the group. It thus dares to predict that MolluscaBase will have a decent global list for freshwater species in 2020 and for terrestrial species in 2021. For the marine Molluscs – the original starting point of MolluscaBase – the list of names keeps growing, suggesting that there are still a lot of "dark" valid marine mollusk species missing from the Register. With regard to the fossils, MolluscaBase is still in a "take off" phase, with a reservoir of unindexed names in the tens of thousands.
To tackle the gaps in the recent Mollusc species, 14 MolluscaBase editors convened during this MolluscaBase editor workshop.
On the first three days, the editors focused on general taxonomic topics such as adding original combinations/basionyms of valid (accepted) species, the use of incertae sedis, revising "dark taxa" (taxa with a doubtful status such as nomen dubium, taxon inquirendum and unassessed), cleaning up synonyms, linking original descriptions to taxa, etc.
On the fourth day, an extensive discussion took place regarding the provision of images to MolluscaBase. Within this scope, representatives from the external databases Mollusca Types in Britain and Ireland (Natural History Museum) and Conchology Inc. were present at the workshop. Further collaboration with other projects, initiatives and institutions such as Indo-Pacific Mollusca, Malacolog, Marine Bivalves of the British Isles, Worldwide Mollusc Species Database, Gastropods.com and MUSSELp were explored.
The agenda on the fifth and final day of the workshop included a hands-on session to document life history traits for Mollusca.
The organisation of the workshop and the support of the Data Management Team (DMT) are supported by
LifeWatch Belgium
, part of the E-Science European LifeWatch Infrastructure for Biodiversity and Ecosystem Research. LifeWatch is a distributed virtual laboratory, which is used for different aspects of biodiversity research. The
Species Information Backbone
of LifeWatch aims at bringing together taxonomic and species-related data and at filling the gaps in our knowledge. In addition, it gives support to taxonomic experts by providing them logistic and financial support for meetings and workshops related to expanding the content and enhancing the quality of taxonomic databases.
Image: group picture of workshop
From left to right: Chris Vos (front), Thomas Neubauer (back), David (Dai) Herbert (front), Rüdiger Bieler (back), Maxim Vinarski (front), Bart Vanhoorne (DMT) (back), Serge Gofas (front), Simon Schneider (back), Philippe Bouchet (front), Gary Rosenberg (back), Wim Decock (DMT) (back), Barna Páll-Gergely (front), Eike Neubert (back), Ira Richling (front), Jan Johan ter Poorten (back), Leen Vandepitte (DMT) (front), Ulrich Wieneke (back), and Stefanie Dekeyzer (DMT) (front).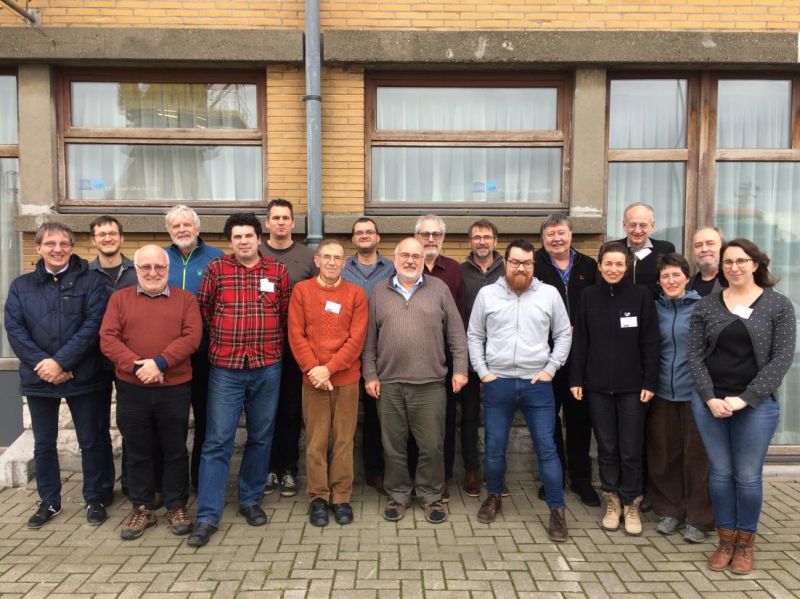 Link: http://www.marinespecies.org/documents/LifeWatch%20reports/editor%20workshop%20reports/20200203_MolluscaBase_Workshop_Report.pdf
[
Overview
] [
Login
]