News
World Kinorhyncha Database launched!
Added on 2021-03-29 16:50:13
by Poffyn, Gizem
The Kinorhyncha are now accessible through their own portal, as part of the World Register of Marine Species (WoRMS). This World Database contains over 300 accepted names of extant species and is one of the most complete existing resources for Kinorhyncha taxa.
Kinorhyncha (mud dragons) is a group of marine and sometimes brackish water meiofaunal animals living on algae, sea grass, kelp, on or in other invertebrates, or in sediments from the intertidal to abyssal depths. Kinorhyncha can represent 1–8% of the meiofauna at a given locality and in extreme cases 0.1% or 15–33%.
Kinorhynchs feed on detritus, bacteria, algae, or diatoms and therefor play a significant role in the food web. They have important ecological and scientific value. There is need for a detailed overview of their names and classification which has become available through the
World Kinorhyncha Database
.
Currently, the World Kinorhyncha Database contains 306 accepted species names, the species number of all accepted and synonymized species is 546, and 619 taxonomic names of all ranks including synonyms contribute or have contributed to the classification of Kinorhyncha as a whole. The number of accepted species includes two fossil species, five taxa inquirenda and 50 species described from juvenile stages, which are usually considered as nomina dubia.
Dr. Birger Neuhaus is the responsible editor for the Kinorhyncha taxonomic group. He is the Scientific Head of the "Vermes" collection at the Museum für Naturkunde (Leibniz-Institut für Evolutions- und Biodiversitätsforschung).
Deposits of specimens are found in the following museum collections:
Museum of Natural History, Smithsonian Institution, Washington D.C., USA (USNM; search colection: https://collections.nmnh.si.edu/search/iz/ ).
Zoological Museum, now The Natural History Museum of Denmark, Copenhagen, Denmark (ZMUC-KIN, NHMD; search collection: http://www.daim.snm.ku.dk/The-digitized-type-collection)
Zoologisches Museum Berlin, now Museum für Naturkunde Berlin, Germany (ZMB, MNB; search collection: http://zmb.sesam.senckenberg.de/page/index.htm).
The aim of the World Kinorhyncha Database is to mirror the full hierarchical classification system of Kinorhyncha including unaccepted names and synonymy, the etymology of all scientific names, the distribution data of all published specimens including their deposition or non-deposition in which reference collection, access to molecular data, and all published references on any topic about Kinorhyncha at species level. In this way, the database will contribute to the stability of taxonomic names and facilitate information and research on all aspects of Kinorhyncha including taxonomy, phylogeny, morphology, development, biology, biogeography, ecology, and molecular biology.
The launch of the Global Kinorhyncha Database is made possible through support of the
LifeWatch Species Information Backbone
. LifeWatch, the E-Science European Infrastructure for Biodiversity and Ecosystem Research, is a distributed virtual laboratory, which is used for different aspects of biodiversity research. The Species Information Backbone of LifeWatch aims at bringing together taxonomic and species-related data and at filling the gaps in our knowledge.
Image credit:
http://www.marinespecies.org/photogallery.php?album=776&pic=11412
.
This work is licensed under a Creative Commons Attribution-Noncommercial-Share Alike 4.0 License.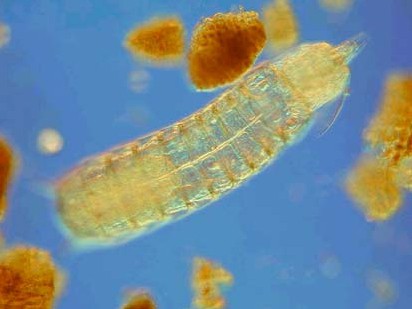 [
Overview
] [
Login
]