News
Porifera editors participated in the very first online organised WoRMS-LifeWatch editor workshop
Added on 2021-08-04 18:12:19
by Vandepitte, Leen
In the week of June 7th 2021, the Flanders Marine Institute (VLIZ) – host of Aphia, the online platform behind WoRMS and its many sub-registered – organized the very first online editor workshop, in which 13 Porifera-editors enthusiastically participated.
The World Porifera Database (WPD) went live in 2008, as one of the first Global Species Registers linked to the World Register of Marine Species (WoRMS). The World Porifera Database is complementary to the Systema Porifera and is being kept up-to-date  by a dynamic team of – currently - 20 editors. In the 13-year existence of WPD, the editors had never met in person to discuss the future of the WPD and to get extra insights in the tools and functionalities of the online platform, provided by the WoRMS Data Management Team (DMT).
A LifeWatch-supported editor workshop was planned for them in Spring 2020, but got cancelled due to the global COVID-19 pandemic. As travel restrictions continued, the DMT decided to take a different approach, by organizing an online-counterpart to the physical editor workshops that had been organized since 2015. The Porifera-editors were positive towards this approach, realizing that this was an alternative way to get together, but also supporting the DMT by serving as a guinea pig for this new approach and honestly evaluating this new experience, helping the DMT in making future decisions towards future online and in-person editor workshops.
The Porifera editors were able to access training tutorials compiled by the DMT through the Ocean Teacher Global Academy Platform, allowing the editors to go through the different steps of using the online Aphia editing platform, guided by several videos. During the week of June 7th, daily 2-hour online sessions were then organized, giving the editors the opportunity to interact with the DMT regarding the online editing, but also engaging in discussions on the future of their Portal.
A full report of their discussions and conclusions is available online, and will serve as a guideline towards the future steps to optimize the content of the World Porifera Database and to explore new possibilities.
The organisation of the workshop and the work of the Data Management Team (DMT) are supported by LifeWatch Belgium, part of the E-Science European LifeWatch Infrastructure for Biodiversity and Ecosystem Research. LifeWatch is a distributed virtual laboratory, which is used for different aspects of biodiversity research. The Species Information Backbone of LifeWatch aims at bringing together taxonomic and species-related data and at filling the gaps in our knowledge. In addition, it gives support to taxonomic experts by providing them logistic and financial support for the organization of meetings and workshops related to expanding the content and enhancing the quality of taxonomic databases.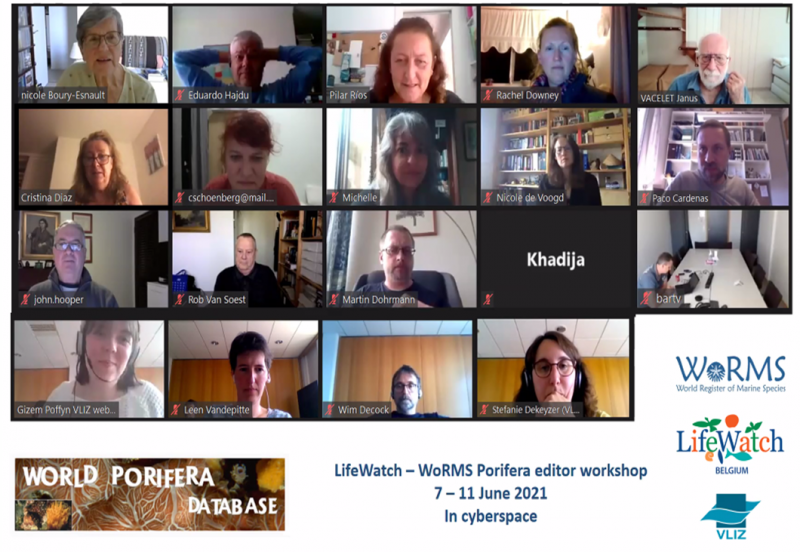 Link: http://www.marinespecies.org/documents/LifeWatch%20reports/editor%20workshop%20reports/20210607_Porifera_Workshop_Report.pdf
[
Overview
] [
Login
]