News
Awardees for the 2022 WoRMS Achievement & Early Career Researchers Award known
Added on 2022-11-10 13:33:03
by Dekeyzer, Stefanie
This year, the WoRMS Achievement Award goes to Nicole Boury-Esnault, and the WoRMS Early Career Researchers Award was granted to Virág Venekey. Exceptionally, the WoRMS Award Committee has decided to also grant an Achievement Award posthumously to Jim Lowry.
The fifth WoRMS Early Career Researchers Award goes to Virág Venekey. Virág is currently based at the Federal University of Pará in Brazil where she combines teaching and research. In her research, she focuses on the ecology and taxonomy of meiobenthos, with an emphasis on nematodes from different parts of Amazonian estuaries, reefs and sandy beaches. She has been an editor for the Nematoda since 2016, adding and editing over 1470 taxon pages.
The WoRMS Achievement Award was assigned to Nicole Boury-Esnault, one of our senior Porifera editors. Nicole's scientific interests are integrative taxonomy, population dynamics, population genetics, life history, systematics, phylogeny, ecology and biogeography of Porifera. Since the start of her involvement as an editor in 2006, she has actively maintained and updated the Mediterranean species for the World Porifera Database. She is also an active editor for the sponge groups Homoscleromorpha, Keratosa, Verongimorpha and Polymastiida. She pays particular attention to the precise geographic location of sponge species, so good maps with a clear repartition of the species can be generated on the species pages. During her career as a WoRMS editor, Nicole so far added and edited over 6700 taxon pages.
Rather exceptionally, the Committee has decided to grant a second WoRMS Achievement Award to Jim Lowry, who passed away November 4th last year. Jim had spent his career on the study of Amphipods. He was responsible for the creation of the World Amphipoda Database in WoRMS, which was based on his own global catalogue and was made publicly available in 2013. As one of the Chief Taxonomic Editors, he continued to work with the Amphipod editorial team in WoRMS to keep it updated. Jim added an edited over 9400 taxon pages.
The WoRMS Early Career Researchers Award and the WoRMS Achievement Award are supported by
LifeWatch
, the E-Science European Infrastructure for Biodiversity and Ecosystem Research. LifeWatch is a distributed virtual laboratory, which is being used for different aspects of biodiversity research. VLIZ is also responsible for building the
LifeWatch Species Information Backbone
, to which WoRMS and its sub-registers are a valuable contribution. WoRMS is an endorsed project action under the United Nations Decade of Ocean Science for Sustainable Development (
UN Ocean Decade
).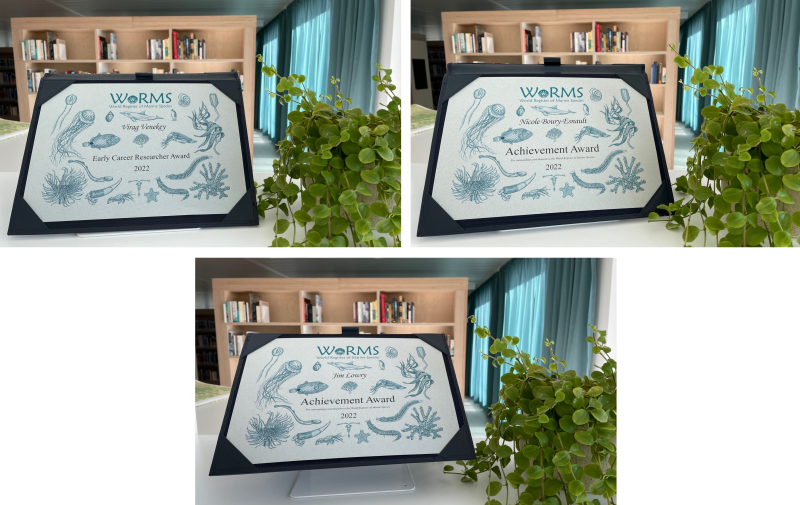 [
Overview
] [
Login
]