News
Ocean Census and WoRMS Announce Partnership to Enhance Rapid Discovery and Identification of Marine Life
Added on 2023-10-09 14:57:09
by Dekeyzer, Stefanie
Collaboration with network of volunteer taxonomic specialists key to mission to accelerate the discovery of ocean life.
Ocean Census is proud to announce its partnership with the
World Register of Marine Species (WoRMS)
, hosted and managed by the
Flanders Marine Institute (VLIZ)
. This collaboration will harness WoRMS' expertise and global leadership in marine taxonomy and taxonomic data management to take a leading role in Ocean Census's commitment to accelerate the discovery of ocean life and catalyse its protection.
Launched by
The Nippon Foundation
and
Nekton
in April 2023, Ocean Census represents a global consortium dedicated to the rapid discovery and preservation of marine life. Although it's estimated that between 1-2 million species inhabit our ocean, little more than 10-25% have been documented. The pace of discovery has remained fairly stable since the 1840s, with around 1,500 new ocean species being described annually. This rate has only increased slightly since the 1970s, to about 2,000 species per year.
Yet, with the advent of major advances in high-resolution imaging, DNA sequencing, and machine learning, the pace of discovery is set to change, and Ocean Census ambitiously aims to uncover 100,000 new species in the coming decade.
WoRMS is central to the indexing of the discovery of ocean life including the indexing of newly described ocean species and formally accessioning all taxonomy-related data. WoRMS' is supported by a global network of volunteer taxonomic specialists who will have the opportunity to participate in all aspects of Ocean Census. From joining expeditions to collect new species to taking part in-person and virtual workshops to document and describe specimens, from telling the extraordinary stories of the discovery of ocean life to representing Ocean Census at science and ocean events, WoRMS will be instrumental to the global, collaborative initiative.  
"For four billion years, life has evolved in our ocean, three times as long as on land. We face a race against time to discover our evolutionary heritage held by ocean life, before it is lost for future generations. This partnership signifies a monumental step forward in the conservation and discovery of marine biodiversity. By leveraging the strengths of both organisations, we can help transform our knowledge of life on Earth and ensure a brighter future for our ocean."

Yohei Sasakawa, Chairman of The Nippon Foundation and Co-Founder of Ocean Census
"When WoRMS was established 15 years ago, no one imagined how influential it would become. It has succeeded well beyond expectations and is now the global standard for marine species names. VLIZ is to be commended for its foresight in establishing and developing such an important knowledge tool."

Prof. Dr. Shane T. Ahyong, Chair WoRMS
WoRMS aims to offer a comprehensive and authoritative list of marine organism names, encompassing valid names and synonymy. The content quality is maintained by taxonomic and thematic experts, ensuring the register serves as a reliable guide for taxonomic literature interpretation.  
"Taxonomy is the foundation of biology. If you get the name wrong, then all the following science is wrong."

Dr. Tammy Horton, Manager of the Discovery Collections at the National Oceanography Centre and Chair of the WoRMS Steering Committee from 2016-2022
This partnership is poised to provide open-access data to a broad audience, including scientists, industry, policymakers and the general public, cultivating a shared understanding of marine biodiversity. Each discovery will play a crucial role in guiding the sustainable governance and protection of marine life.  
"The editors of WoRMS work on the database for two reasons. First, having complete datasets is incredibly useful for their day-to-day research. Second, because they know that their work on this database will be amazingly useful for others. We are grateful to the community of editors for giving so generously of their time."

Dr. Christopher Boyko, Co-chair WoRMS
Ocean Census builds on major programmes of the past including The Challenger Expeditions (1872-1876, the birth of modern marine science) and The Census of Marine Life (2000-2010).  
"This isn't the first venture to discover the diversity and richness of ocean life. But it is set to be the largest attempt of its kind – a coalition of partners uniting at this critical time. In joining forces with WoRMS, we can now amplify our efforts, ensuring that our discoveries not only deepen our understanding of marine ecosystems but also drive global action towards their protection."

Prof. Dr. Alex Rogers, Science Director at Ocean Census
The Nippon Foundation of Japan, a private, non-profit foundation for social innovation, and marine research charity Nekton, a UK-based marine science and conservation institute, are coordinating partner activities along with funding and managing the Ocean Census Science Network, species discovery, expeditions, and public and policy engagement activities.
Get involved!
Are you a scientist, researcher, or taxonomic expert passionate about marine biodiversity? Do you aspire to contribute to groundbreaking discoveries and the protection of ocean life?
Become a vital part of this global, collaborative project by joining the Ocean Census Science Network
for the opportunity to work alongside like-minded professionals, share your expertise, and play a pivotal role in unveiling the mysteries of the ocean.
Banner image credit:
Gabriel Barathieu
Carousel images: Left:
Scaly-foot snail (Chrysomallon squamiferum) by David Shale
, CC-BY-NC-SA. Right:
Marivagia stellata by Shevy Rothman
, CC-BY-NC-SA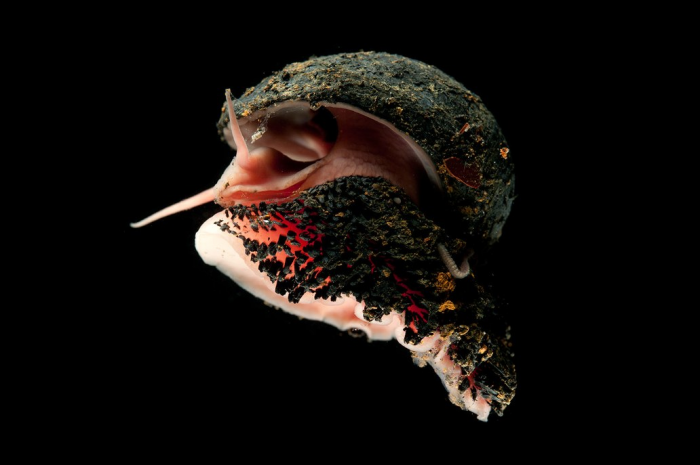 Link: https://oceancensus.org/ocean-census-and-worms-announce-partnership-to-enhance-rapid-discovery-and-identification-of-marine-life/
[
Overview
] [
Login
]